Global $31 Billion Escape Room Market Opportunity Analysis and Industry Forecasts, 2022-2023 & 2032
Escape Room Market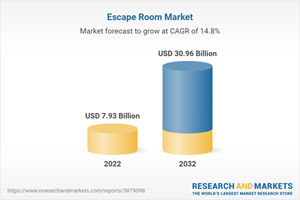 Dublin, Oct. 13, 2023 (GLOBE NEWSWIRE) — The "Escape Room Market By Type, By End User: Global Opportunity Analysis and Industry Forecast, 2023-2032" report has been added to ResearchAndMarkets.com's offering.
The escape room market was valued at $7.9 billion in 2022, and is estimated to reach $31 billion by 2032, growing at a CAGR of 14.8% from 2023 to 2032.
An escape room, additionally referred to as an escape game, puzzle room, exit game, or riddle room, is a game in which a group of players must find clues, solve riddles, and complete tasks in one or more rooms to achieve a certain objective in a set period of time. The aim is frequently to get away from the game's location.
The growth of the escape room market can be attributed to its captivating concept and the availability of a wide variety of themed activities in various cities. Strategic marketing efforts by industry players and government initiatives to promote adventure tourism are also contributing factors to the growth of the escape room industry.
The increasing presence of social media networks and the popularity of travel blogging and vlogging on platforms like Instagram and Twitter are expected to generate interest in escape rooms worldwide. This heightened exposure is anticipated to boost the popularity of escape rooms, driving further growth in the industry.
Expanding escape room facilities into new markets and regions presents significant commercial potential. As the demand for escape rooms grows, businesses are exploring opportunities beyond their initial locations, whether in neighboring cities, countries, or through online platforms. This expansion allows companies to tap into new markets and customer bases, reducing their reliance on a single market.
Furthermore, diversifying revenue sources and collaborating with other industries, such as hotels and tourist sites, to offer bundled entertainment packages has proven successful for many escape room companies. By entering new markets and regions, these companies can differentiate themselves from competitors by offering unique and innovative experiences.
However, the growth of e-sports has gained immense popularity among young audiences globally. Factors such as the increased availability of digital devices, widespread internet access, and the use of social media have contributed to the rise of e-sports. The COVID-19 pandemic further accelerated interest in e-sports, leading many millennials to pursue it as a career or leisure activity.
The growing popularity of e-sports poses a potential threat to traditional outdoor recreational and entertainment facilities like escape rooms. It has led to reduced engagement in adventure and leisure activities among young people, impacting the revenue growth of the escape room business.
In response to these challenges, players in the global escape room market have implemented various strategies to expand their market share, increase profitability, and remain competitive in the industry.
Key findings of the study
On the basis of type, small theme room (2 to 4 people) segment dominated the escape room industry in 2022 and is expected to retain its dominance throughout the forecast period.
On the basis of end user, the corporate groups segment dominated the global market in 2022 and is expected to retain its dominance throughout the forecast period.
Region wise, Asia-Pacific region accounted for the highest escape room market share in 2022 and is expected to grow at a CAGR of 14.3% from 2023 to 2032.
Key Attributes:
| | |
| --- | --- |
| Report Attribute | Details |
| No. of Pages | 250 |
| Forecast Period | 2022 – 2032 |
| Estimated Market Value (USD) in 2022 | $7.93 Billion |
| Forecasted Market Value (USD) by 2032 | $30.96 Billion |
| Compound Annual Growth Rate | 14.6% |
| Regions Covered | Global |
Market Dynamics
Drivers
Growth in popularity of escape rooms as a form of entertainment and social activity
Increase in usage of escape room by corporate group
Development of new and innovative escape room themes
Restraints
Limited capacity and scalability for escape room businesses
Increase in popularity of e-sports among youth
Opportunities
Expansion of escape room facilities into new markets and locations
COVID-19 Impact Analysis on the market
Market Share Analysis
Key Market Players
60 Out Escape Rooms
All In Adventures, LLC
Amazing Escape Room, LLC
Breakout Operations, LLC
Epic Escape Game
Escape The Room
Escapology LLC
Great Room Escape
Maze Rooms Corp.
Paniq Entertainment LLC
Puzzle Effect
Texas Panic Room
The Escape Game, LLC
The Great Escape Room
XP Factory Plc
Key Market Segments
By Type
Small Theme Room (2 to 4 person)
Medium Theme Room (5 to 8 person)
Big Theme Room (9 to 12 person)
By End User
Friends
Corporate groups
Individuals
Families
Couples
By Region
North America
U.S.
Canada
Mexico
Europe
Germany
UK
France
Italy
Spain
Netherlands
Russia
Poland
Rest of Europe
Asia-Pacific
China
Japan
India
Australia
South Korea
Rest of Asia-Pacific
LAMEA
Brazil
Saudi Arabia
South Africa
UAE
Argentina
Rest of LAMEA
For more information about this report visit https://www.researchandmarkets.com/r/46jijl
About ResearchAndMarkets.com
ResearchAndMarkets.com is the world's leading source for international market research reports and market data. We provide you with the latest data on international and regional markets, key industries, the top companies, new products and the latest trends.
Attachment
CONTACT: CONTACT: ResearchAndMarkets.com Laura Wood,Senior Press Manager press@researchandmarkets.com For E.S.T Office Hours Call 1-917-300-0470 For U.S./ CAN Toll Free Call 1-800-526-8630 For GMT Office Hours Call +353-1-416-8900 

Disclaimer: The above press release comes to you under an arrangement with GlobeNewswire. Glamtainment takes no editorial responsibility for the same.